SMART Joint Group Program
Drive for Data Across America
Compiling STEM Educ/Workforce Development Grass-Roots Data for the related Auto, Motorsports & Aviation communities
&
Charity Funding/Data compilation for Veterans Health Care, Local Projects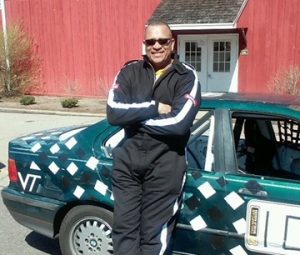 Executive Summary & Sponsorships
Executive Summary
Drive for Data Across America (DDAA) is a SMART Joint-Group program, our 2023 top program priority.
Led by our STEM Educ / Workforce Development Group and our Veterans Group
Gordy Bryan (VT '82 & Malvern Prep '78) is the Founder, Program Manager & Driver. Contact via phone at 484-222-3812
Mission: Compile & report grass-roots data to Federal/State Gov'ts, Businesses, Academia & Related NFPs from annual Drives across the country for two major goals:
Technical: Promote STEM Educ/Workforce Development  for the related Auto, Motorsports & Aviation communities.

Led by Virginia Tech Alumni, Malvern Prep Alumni & US Dept of Education (Ret).

Charity: Conduct local Veterans' Health Care projects along the route.

Led by Vietnam Veterans of America Chapter #1068, Somerdale NJ.
Honorary Co-Hosts:
Hon. Patrick Murphy; Congress (PA-08 2007-2011) & UnderSec Army (2016-2017)
Michael Parrish; US Dept of VA, Principal Exec Director, Office of Acq., Logistics & Construction (invited)
Other Honorary (Gov't) and Celebrity Co-Host requests are in process; Governors are engaged.
National Data Collection & Wash DC Forum:  To compile national, grass-roots data on the above topics, we will conduct a series of Regional or State-wide Drives spanning from San Diego CA to Wildwood NJ. Routing will connect and showcase the many Malvern Prep and VT Alumni leaders in the above and below tech topics and of course other significant sponsors.
The IT Group, led by Bob Clayton, Connex Market Place, will compile the real-time, grass-roots data supporting:
DAA Mission, Goals, Route Stops and finish ceremonies.
Annual Report & Awards Ceremony on Capitol Hill in Washington DC.
Resultant public, private and public/private actions by Businesses, Government, Academia and related Professional Associations.
Other  Tech Topics: Other SMART Groups engaged are; Transportation, (Infrastructure topics),  Manufacturing (Advanced tech & related workforce development), Energy  (Electric Vehicle impacts), Global Diversity & Inclusion Group (Economic development & workforce development) and the International Group (Planned Intern'l expansion). Others added as needed, as this annual program develops.
Veterans Charity Funding: The DDAA Program funding, beyond administrative costs, will support local Veterans' program grants at each major route stop, selected by a local Vietnam Veterans of America (VVA) Chapter or a local Veterans Serving Organization.
VVA Chapter #1068, Somerdale NJ, will manage this national effort assisted by local VVA Chapters and other local Veterans Serving Organizations.
Scheduling:  Contact SMART Executive Director Robert Carullo for current scheduling at [email protected] or 609-304-2904.
*****2023 DDAA Sponsorships*****
Below are our 2023 rates. SMART's IRS 501 (c ) 3 tax-free code provided to all sponsors.
To

Sponsor,

see below and

contact SMART Executive Director Robert Carullo at

[email protected]

or 609-304-2904 for an invoice.
To Contribute any amount by check, make check to SMART and annotate DDAA Contribution in the memo field and mail to SMART Treasurer / Pamela Fillion, 17 Crested Butte Court, Shamong, NJ  08088-8227.  To contribute by credit card over the phone, call Robert Carullo at above.
A SMART receipt with our IRS 501 (c ) 3 tax-deductible code provided to all sponsors and contributors.
National Program Sponsorships for the 2023 Drives:
Program Sponsor (1)                  $50,000
Platinum                                           $35,000
Gold                                                     $25,000
Silver                                                    $10,000
Bronze                                                   $5,000
Benefits: Include, but not limited to:
Program Sponsor will keynote DAA annual event; Platinum, brief remarks.
At SMART annual conferences (Fall & Spring), DAA Program Sponsor invited to speak and provided a no cost exhibit booth. Platinum sponsors; limited, no cost space in DAA exhibit booth. Other levels listed; all recognized from podium.
All National level sponsors; no cost, priority exhibit space at all DAA events.
Logo/recognition on all promotional materials including SMART website.
Other typical, national benefits will apply.
Program Sponsor invited to participate on the Program Executive Committee.
Regional/Local Sponsorships: Benefits similar to above.
Program Sponsor (1)                  $3,000
Platinum                                           $2,000
Gold                                                     $1,000
Silver                                                      $500
Bronze                                                   $250
For Further Details and/or Participation, contact: